How to Grow Vegetables in Straw Bales: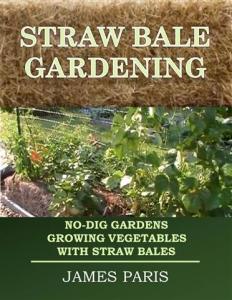 This is the latest book by James Paris, and goes hand-in-hand with his other works on small gardening ideas. Based as it is on the basic principles of container gardening, the straw (or hay) bales becomes the container in which the vegetables are grown.
Everthing from herbs to tall tomato plants can be grown in a straw bale, as long as sufficient support is provided for the taller plants.
This book lays it all out with very simple diagrams and pictures so that the reader is in no doubt as to how to go about setting up their own straw bale garden.
There is also full instruction on how to set up your bale garden, including location and priming the bale with all the nutrients needed to ensure a successful harvest. The differences between hay and straw are discussed as well as the advantages and dissadvantages involved with either choice of growing medium.
Straw bales are a great conversation point amongst gardeners today – why not join in the conversation, and order your own copy today!