Small Space Gardening Ideas
Growing Vegetables In Limited Spaces
The growing season is upon us, and the demand for gardening books is again strong! Gardening, and especially growing vegetables, is of particular interest these days as more and more people are becoming increasingly unhappy with the quality and dubious provenance of the vegetables that are on offer via the local branches of multi-national conglomerations that have taken over from their local stores.
Even people in apartment blocks with little or no space to grow their own vegetables, are now showing huge interest in the many books on offer that cover 'small space gardening.' These are books that offer advice on growing vegetables in raised beds or containers. The advantages of growing vegetables in raised beds are actually covered well by James Paris in his summary book on the subject (see highlighted text or click here).
Another concept that has gained huge interest since Mel Bartholomew promoted the idea back in the 1980's, was the idea of growing vegetables in a 4 foot square area divided up into 16 squares. Known as square foot gardening – for obvious reasons! This is a style of Raised Bed Gardening that promotes the idea that even in such a limited space, a good selection of vegetables can be grown throughout the season – enough to supply a small family with all their veggie needs.
With that in mind – and to compliment his books on Raised Bed Vegetable Gardening, Jamesand Norman J Stone have produced a number of niche gardening books on the subject of growing vegetables in limited spaces.
Small Space Gardening Ideas: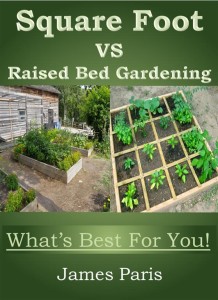 Square Foot Gardening Vs Raised Bed Gardening – What's Best For You!
This is a simple summary of the two concepts involving growing maximum vegetables in limited spaces. Unusually, this is not a 'How To' book. It's primary objective is to point out the differences and the similarities between the two systems, and let you come to your own conclusion as to which concept – if any – would suit your own circumstances.
Square Foot Gardening – How To Grow Healthy Organic Vegetables The Easy Way.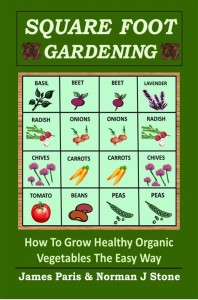 This work is available in both digital and paperback formats via Amazon. At around 110 pages long, this is a detailed work on how to establish and benefit from your own SFG. How to get the best results from your growing efforts, through the clever use of organic growing methods including Companion Planting (which is the subject of another book by the same author).
Straw Bale Gardening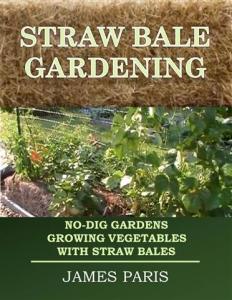 The ability to grow vegetables in straw bales is fast becoming a 'must have' skill for the serious vegetable grower or horticulturalist, as this is a concept quickly gaining in popularity as it emergies into the mainstream of no-dig gardening methods. Originally thought to have begun centuries ago when the Scots grew vegetables in their middens, it has evolved to encompass straw and hay bales for growing veggies with apparent effortless ease.
It comes as a surprise to many that vegetables can actually be grown successfully in bales of straw – and indeed hay bales – however this book makes the proces seem an easy and very effective way to grow your own produce with minimum fuss.
Growing Vegetable In An R S Combo
This will indeed be a 'new' method to all vegetable gardeners – apart from those familiar with this book! The term RS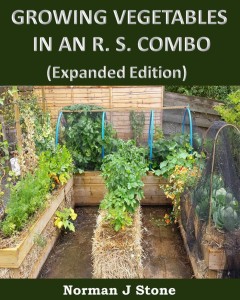 Combo (TM) was indeed coined by the author Norman J Stone to describe his particular slant on a combination of Raised Bed and Straw Bale gardening methods. An extremely effective way to put into effect the best of these 2 combinations of niche gardening, the RS Combo is compact, simple to use, and virtually guarentees you fantastic results from your vegetable growing efforts.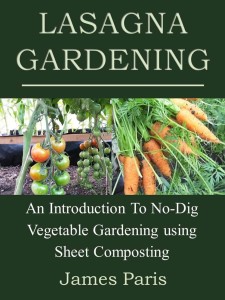 Yes when you think of lasagna you automatically think of delicious italian food! However Lasagan gardening is another form of Hot Bed gardening that is extremely popular for growing early vegetables, and for using up any organic scraps that are laying around the garden or indeed kitchen! This Lasagna gardening book – also known as layer gardening – tells you exactly how to go about groing your own vegetables in small spaces using piles or layers of organic 'rubbish'. A great addition to any niche gardening library.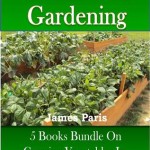 Growing vegetables in Raised Beds is perhaps the most popular off all the small vegetable gardening ideas out there, that along with container gardening – which pretty much encompases the whole idea. This method of growing veggies ensures that you have no back-ache, no hard labour involved with digging soil. No weeding worth mentioning, and a host of healthy abundant vegetables for the kitchen table – but only if you follow a few 'golden rules' right from the start!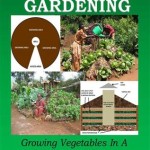 Keyhole Gardening:
This is an idea championed by the charity sendacow.org and indeed has been written partially in a joint venture with them. The charity first coined this phrase to highlight a process for growing vegetable in challenging circumstances throughout the African continent. Now however the idea has been adopted by niche-gardening enthusiasts through America and Europe, as it is seen to be a highly productive small gardening method in just about any environmental conditions.