How To Grow Summer Berries: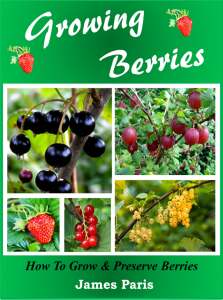 This is the subject of the latest gardening book by Amazon Best Selling Author James Paris.
In it you will find the details on how to grow the most popular summer berries such as Blackberries, Gooseberries, Raspberies, Strawberries and blueberries.
He also cover the currant varieties such as blackcurrents, redcurrants and whitecurrants.
This book is ideal not only for information regarding best-practice when growing berry bushes, but also on organic growing methods in general.
For instance how to control slugs and garden pests such as aphids or greenfly, without having to resort to chemical pesticides that may in turn contaminate your berries, using Companion Planting techniques.
What You Will Discover In This Book:
 1. How to grow your own Berry bushes, including which varieties to choose from.
2. How to care for your plants in order to get the best results, including pruning and feeding.
3. Making a good organic compost that will assure you of the best crop of Berries possible.
4. How to control insect and disease using organic insecticides and Companion Planting methods.
5. Simple steps to protect your Berries from birds and flying insects.
6. Harvesting and preserving your fruits for later consumption.
7. Some tasty recipes for Jams, Jellies and Chutneys
So if you are considering growing berries this summer, check it out!